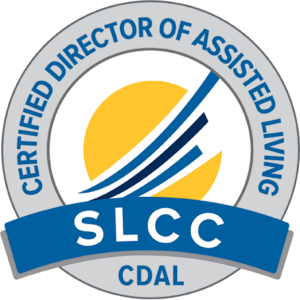 As Hendersonville awaits the opening of Clarendale at Indian Lake—the senior living community under construction and scheduled to open in late 2018—their Executive Director, Jake Rightmyer, has earned a top professional designation. He recently received the Certified Director of Assisted Living (CDAL) credential from the Senior Living Certification Commission.
"It's an honor to be among an elite group of assisted living directors to complete this challenging and rigorous program," says Rightmyer. Clarendale at Indian Lake's executive director is one of just 500+ executive directors nationwide who have earned this prestigious designation, since the program launched in 2016.
"The Assisted Living Executive Director Certification program gives leaders access to a high-standard credential which recognizes their experience, competency and professionalism, strengthening our industry's dedication to providing quality of life to those we serve," said Argentum Board of Directors Chairman and Silverado CEO Loren Shook. "It demonstrates to consumers and state regulators that the senior living industry is committed to rigorous, professional development and self-regulation in an effort to deliver the best quality of life to our consumers."
The CDAL examination provides a mechanism to measure judgment, application of knowledge, and problem-solving abilities. It is comprised of questions in the following knowledge domains: Principles and Philosophy of Assisted Living; Resident Care and Services; Customer Experience; Leadership; Operations Management; Regulatory Compliance; Sales and Marketing; and Financial Management.
Clarendale at Indian Lake is one of a series of Clarendale senior living communities from developer-builder Ryan Companies US, Inc. Life Care Services, An LCS Company, will manage the property.
Located on 11.4 acres at the intersection of Indian Lake Boulevard and Maple Drive, Clarendale at Indian Lake will offer a variety of floor plan options, including private one- and two-bedroom layouts with private bathrooms in independent living and assisted living, plus private studio suites in memory care. Residents also will have access to community spaces for socializing and entertaining, including a restaurant-style dining room and casual bistro, a pub and billiards room, club room and library, salon and fitness center.
To learn more, seniors and families can drop by the leasing office, located at 206 Indian Lake Boulevard in Hendersonville, as well as by calling (615) 826-9223 or visiting the website at ClarendaleAtIndianLake.com.